Star Floor Laminate Parquet is made in Iran and licensed by Germany. This product has a warm and beautiful color scheme of wooden designs, which makes it easy to choose for every taste. This product is produced with dynamic HDF core plus with overlay layer, which has caused this product to be highly resistant to scratches and can be installed in crowded places such as Hyperstar. and commercial complexes and... have. This product is produced with two-lock paraffin-embedded clicks, which makes it a good insulator for sound. We suggest that you read the article about click laminate for a better understanding of the contents of this page. This product has an Ac4 wear factor.
Laminate Star Flor is resistant to many bacteria and its advantages include its low flammability and high resistance to cigarette burns. After gaining enough experience in the field of production, this brand has been able to produce a quality product in accordance with all international standards and sell it on the market. It is safe to say that this product can compete with all its foreign competitors and you, dear customers, do not have to worry about the quality of your purchased product after purchasing this product.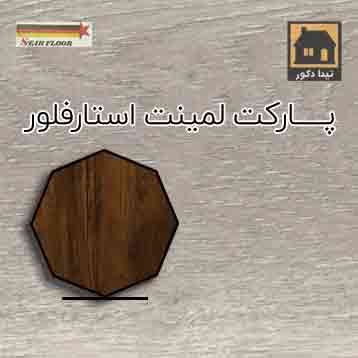 Star Floor laminate specifications
Package size: 2.30 square meters
Number of cups in the package: 8 pieces
Dimensions of each tile: length: 1200 mm and width: 190 mm
Standard: E1
Groove: No
Class: 32
Just note that Star Floor laminate parquet is sold with a 5-year warranty from Tida Decor.
  Star floor parquet coloring    
Click on one of the pictures to see the pictures of Parquet Star Floor in full screen.
Important points about buying this product
Tip 1: To view Parquet Star Floor images in full screen, just click on the image and view the image in full screen on your mobile phone or personal computer. Some customers insist that pictures be sent to them. We inform those customers that the pictures on the site are industrial and the natural color of the laminate, but the pictures taken with a mobile phone are from the product sample. It will be sent from different angles due to the light radiation, it will have a different color, and in these cases, the consequences of the purchase are the responsibility of the customer, and Tida Decor Company has no responsibility in this regard.
Second point: To place an order for this product, you can click on the Telegram and WhatsApp icon and inquire about the price and stock directly from our sales department and make a purchase.
Third point: Dear customers in the cities, please note that Tida Decor sells Star Floor laminate directly without intermediaries.
Source :