Green Home Chinese Laminate Parquet is produced in China under German license. This product is produced with matte melamine decor paper and has a variety of wood design colors. This product is one of the famous brands in Europe and the world and has many fans because of its high quality. This product is produced with German materials, including HDF and Green Home's own decor paper, and due to the cheapness of costs, it is produced in China in order to enter the market at a competitive price. This product is easily installed in places with underfloor heating. This product has elastic clicks that allow quick installation of this product and the clicks of this product are hard to break, so we suggest you read the article about laminate clicks for a better understanding of this issue.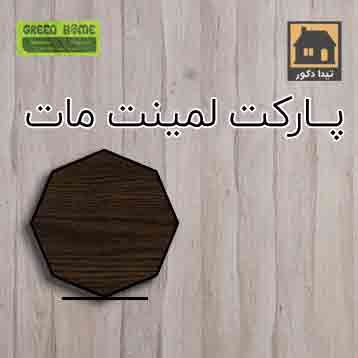 Green home laminate specifications
Closed area: 1.891 square meters
Number of cups in the package: 8 pieces
Dimensions of each tile: length: 1212 mm and width: 195 mm
Abrasion coefficient: AC4
Country of manufacture: China under German license
Groove: No groove
Now, after familiarizing yourself with the characteristics of Green Home Chinese Laminate Parquet, we suggest you to view its color scheme and choose your favorite design and color. Just note that this product is sold with a 15-year written guarantee from Tida Decor. So you don't have to worry about its quality.
Green home laminate coloring
Click on one of the pictures to see the pictures of Green Home Chinese parquet in full screen.
 
Buying green home parquet
Tip 1: To view the pictures of Green Home Chinese parquet in full screen, just click on the picture and see the picture in full screen on your mobile phone or personal computer. Some customers insist that pictures be sent to them. We inform those customers that the pictures on the site are industrial and the natural color of the laminate, but the pictures taken with a mobile phone are from the product sample. It will be sent from different angles due to the light radiation, it will have a different color, and in these cases, the consequences of the purchase are the responsibility of the customer, and Tida Decor Company has no responsibility in this regard.
Second tip: To place an order for Green Home Chinese Parquet, you can click on the Telegram and WhatsApp icon and inquire about the price and inventory directly from our sales department and make a purchase.
Third point: Dear customers in the cities, please note that Tida Decor Company sells Green Home Chinese laminate directly without intermediaries.
Source :