MDF G1 G1 is the cheapest brand in the market of our country. In the past, this brand did not have many fans due to its weak brain, but today, with the acquisition of many experiences and the introduction of modern technologies, it has become one of the best-selling Iranian MDF. We suggest you read the articles about MDF to better understand the concepts of this page. Learn more about the benefits of this brand.
1- It is resistant to corrosion by insects such as termites and cockroaches
2- The emission of toxic gases is very small due to the good press in them
3- They are resistant to impact and sharp objects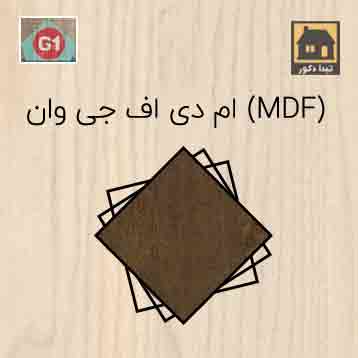 Specifications MDF G1
Made in Iran
Dimensions: 1.83 x 3.66 meters
Coating material: melamine (matte and glossy)
Number of sheets in each pallet: 32 pieces
Thickness: 16 mil
Now, after familiarizing yourself with the MDF specifications of G1 G1, we suggest you to see its color scheme and choose your favorite design and color.
    G1 MDF coloring
Click on one of the images to see the MDF G1 images in full screen.
Buy MDF G1
Tip 1: To view the images in full screen, just click on the image and see the image in full screen on your mobile phone or personal computer. Some customers insist that the pictures be sent to them. We inform those customers that the pictures on the site are industrial and the natural color of the product, but the pictures taken with a mobile phone are from the sample and It will be sent from different angles due to the light radiation, it will have a different color, and in these cases, the consequences of the purchase are the responsibility of the customer, and Tida Decor Company has no responsibility in this regard.
Second point: To place an order for this product, you can click on the Telegram and WhatsApp icon and inquire about the price and stock directly from our sales department and make a purchase.
Third point: Dear customers in the cities, please pay attention to contact our experts in the sales department to get MDFG One sales agency.
Source :