ABS waterproof door is one of the most important products in homes and offices. These products are produced from MDF sheet, whose frame is made of Nerad wood, and in our collection, the frame is double so that the handle and lock can be installed from the bottom and top. These doors are suitable for toilets and bathrooms and are included in the collection of room doors and interior doors of the building. We suggest that you read the article about interior doors (room) to learn more about the concepts of this page. Learn more about the benefits of this product.
1- It is completely or better to say 100% resistant to shocks and scratches
2- It is completely antibacterial and has a high resistance against environmental bacteria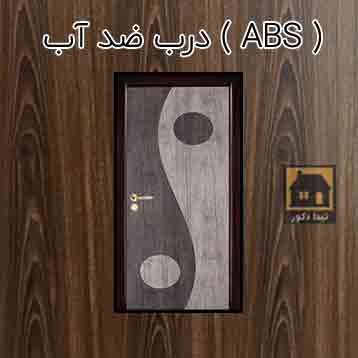 ABS waterproof door technica
Coating thickness: 2 mils
Coating material: ABS polymer
Color: Various colors of wood design and leather design
Dimensions: customized
Now, after familiarizing yourself with the specifications of the ABS waterproof door, we suggest that you view its color scheme and choose your desired design and color. Just note that this product is sold with a one-year warranty from Tida Decor. Do not worry about its quality.
    Model waterproof door
Click on one of the images to see full-screen waterproof door images.
about buying an ABS door
Tip 1: To view the images in full screen, just click on the image and see the image in full screen on your mobile phone or personal computer. Some customers insist that the pictures be sent to them. We inform those customers that the pictures on the site are industrial and the natural color of the product, but the pictures taken with a mobile phone are from the sample and It will be sent from different angles due to the light radiation, it will have a different color, and in these cases, the consequences of the purchase are the responsibility of the customer, and Tida Decor Company has no responsibility in this regard.
Second point: To place an order for this product, you can click on the Telegram and WhatsApp icon and inquire about the price and stock directly from our sales department and make a purchase.
Third point: Dear customers in the cities, please pay attention to contact our experts in the sales department to get the agency to sell this product.
Source :